Lorsque vous installez Active Directory Federation Services 3.0 (ADFS) sur un serveur Windows Server 2012 R2, il se peut que vous rencontriez l'erreur suivante :
Windows could not start the Active Directory Federation Services service on Local Computer.
Error 1297 : A privilege that the service requires to function properly does not exist in the service account configuration.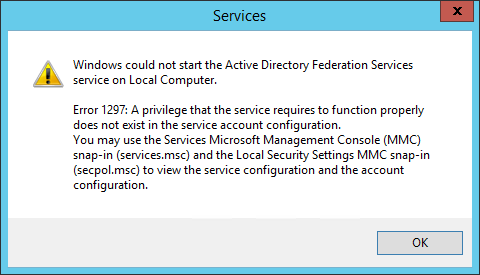 Solution
L'erreur affichée dans l'Event Viewer est pour une fois claire : il manque un privilège au service ADFS pour qu'il puisse se lancer correctement.
Un petit tour dans le registre HKEY_LOCAL_MACHINE\SYSTEM\CurrentControlSet\Services\adfssrv nous montre que le service a besoin du privilège Security Audits.

Il ne vous reste plus qu'à rajouter votre compte de service ADFS dans la partie "Generate Security Audits" des paramètres de sécurité locaux, ou de déployer ce paramètre par GPO.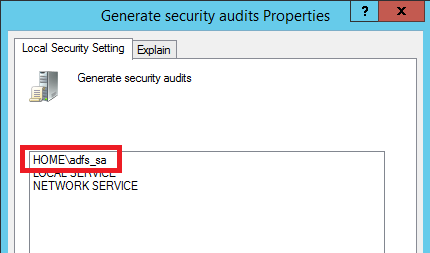 Pour information, ce paramètre se situe dans la partie Computer Configuration\Windows Settings\Security Settings\Local Policies\User Rights Assignment.