Si vous installez une version américaine d'un produit Windows (Windows Vista, Windows 7, Windows Server 2008 ou Windows Server 2008 R2), il se peut que votre clavier soit configuré en clavier QWERTY (américain).
Pour la plupart des cas, il suffit de changer les paramètres de langue pour le clavier via le Panneau de Configuration Windows pour retourner au clavier français AZERTY (Control Panel > Clock, Language and Region > Change keyboards or other input methods puis bouton "Change Keyboards", Add).
Parfois, il est possible qu'au démarrage de votre ordinateur sur l'écran de connexion à votre compte (logon), la langue de votre clavier reste en QWERTY et repasse en AZERTY une fois votre session lancée. Pour changer définitivement le type de votre clavier au démarrage de l'ordinateur, il faut passer par une petite modification dans la base de registre Windows :
Ouvrez la base de registres (regedit)
Rendez-vous dans "HKEY_USERS.DEFAULTKeyboard LayoutPreload"
Faites un clic droit sur la valeur chaine "1" puis "Modify"
Remplacez la chaine existante par une des valeurs ci-dessous :
0000040c : Français (France)
0000080c : Français (Belgique)
00000c0c : Français (Canada, Legacy)
00001009 : Français (Canada)
0000100c : Français (Suisse)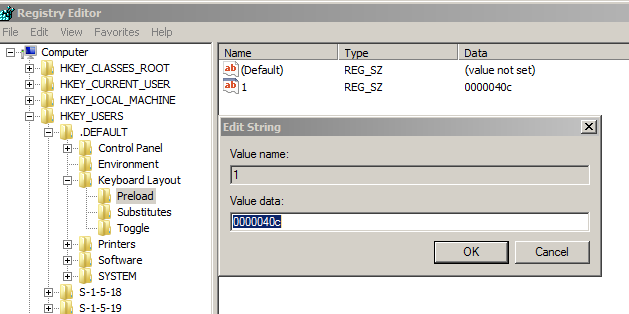 Validez et fermer le registre Windows. Votre clavier sera maintenant en AZERTY sur l'écran de connexion de Windows !
Share the post "Windows / Windows Server : changer la langue du clavier à l'écran de logon"
Tags: clavier logon windows server 2008 R2, clavier qwerty windows, écran logon windows, langue clavier ecran logon, langue clavier windows, langue clavier windows server 2008, langue connexion windows