Lorsque vous souhaitez installer l'outil Azure Active Directory Sync (DirSync) sur une machine Windows Server 2008 R2 en français, vous pouvez rencontrer l'erreur suivante :
The minimum version of Windows Powershell is 2.0. Please install the minimum version required (or higher) and try again.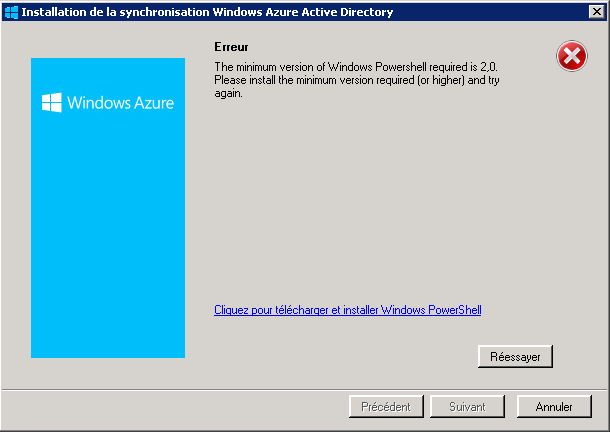 Cependant, vous n'êtes pas sans savoir que Windows Server 2008 R2 est livré avec… Powershell 2.0 ! Vous ne devriez donc pas rencontrer cette erreur sur un serveur 2008 R2 ou supérieur.
Solution
Cette erreur est due à une mauvaise gestion du format régional par l'outil d'installation DirSync. En effet, le programme d'installation est incompatible avec le format régional français, qui a comme symbole décimal la virgule, au lieu du point aux Etats-Unis. Le problème est connu de Microsoft et sera corrigé dans la prochaine version de l'outil.
Pour pouvoir installer DirSync, vous devez donc changer temporairement le format régional de votre serveur en Anglais (Etats-Unis) le temps de l'installation.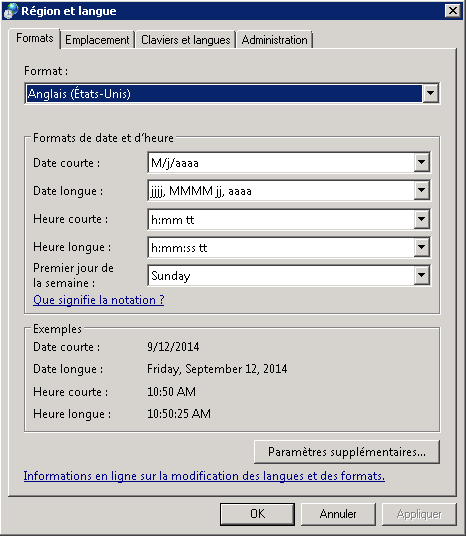 Alernativement, vous pouvez également changer le symbole décimal en cliquant sur le bouton Paramètres supplémentaires.