Windows 8 est le premier système d'exploitation à intégrer un hyperviseur gratuit déjà utilisé dans Windows Server : Hyper-V.
Si vous avez récemment installé Hyper-V sur votre client Windows 8 alors que vous aviez précédemment un autre hyperviseur tel que VMWare Workstation, vous aurez des difficultés à désinstaller le produit VMWare car une erreur apparait :

"Error : this product may not be installed on a computer that has Microsoft HyperV installed."
Résoudre le problème de désinstallation de VMWare Workstation
Afin de pouvoir désinstaller VMWare Workstation proprement, quelques manipulations sont nécessaires afin de désactiver la vérification de la présence de Hyper-V sur votre système :
1- Sous Windows 8, ouvrez le bloc-notes en tant qu'administrateur depuis le Menu de Démarrage (touche Windows, puis tapez "bloc-notes", clic-droit dessus puis "Exécuter en tant qu'administrateur")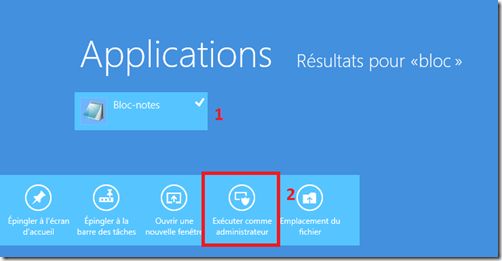 2- Dans le bloc-notes, allez dans le menu "Fichier" puis "Ouvrir…" et ouvrez le fichier bootstrap.lua à l'emplacement :
C:ProgramDataVMwareVMware WorkstationUninstaller

3- Recherchez la chaine de caractères "CheckForMSHyperV()" en faisant CTRL + F :

4- Commentez ensuite cette ligne en rajoutant les caractères -- devant CheckForMSHyperV() :

5- Enregistrez le fichier (CTRL + S) puis fermez le bloc-notes. Relancez le programme de désinstallation via le panneau "Programmes et fonctionnalités" : VMWare Workstation peut se désinstaller sans problèmes !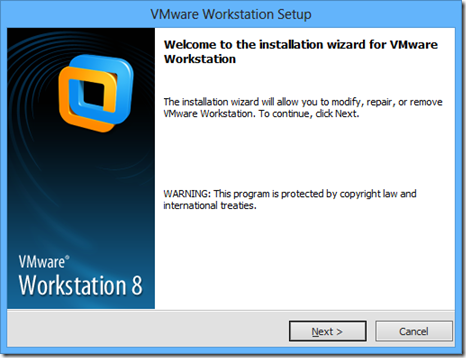 Share the post "Désinstaller VMWare Workstation sur un client Windows 8 doté de Hyper-V"
Tags: désinstaller vmware workstation, désinstaller vmware workstation windows 8, erreur hyper-v vmware workstation, hyper-v windows 8, vmware workstation 8 error uninstall hyper-v, vmware workstation hyper-v, vmware workstation windows 8